Discover more from China Story
CCTV Follies, political essays, articles and excerpts of fiction
CCTV FOLLIES 9.18 Propaganda waxes poetic
-The fake news is so polished today one has to wonder what is being covered up -The CCP cares about the handicapped! -Cai Qi calls to inject XJP thought into science! -Bumper harvest, record yields!
Two surprises in today's opening. A sign language interpreter was on screen (briefly) to introduce the news, and Xi's Politburo crony Ding Xuexiang, not the paramount leader himself, got top billing. It's interesting to see how Xinhua describes it:
China Disabled Persons' Federation opened its eighth national congress in Beijing on Monday. The event, held in the Great Hall of the People, was attended by more than 600 delegates who represent about 85 million people living with disabilities in China.
When Xi and other leaders walked into the venue, warm applause rose among the audience.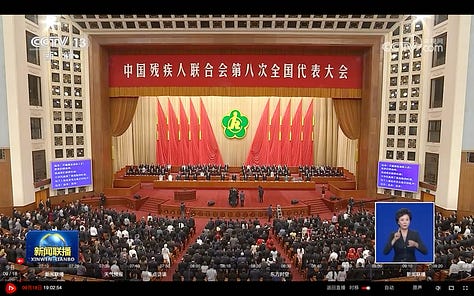 This represents a slight deviation in rank order, since Xi usually tops the news. The deviation was quickly corrected in terms of TV protocol, but it's notable that Xi just sat there sullenly and said nothing.
President Xi Jinping, also general secretary of the Communist Party of China (CPC) Central Committee and chairman of the Central Military Commission, attended the event with other Party and state leaders including Li Qiang, Zhao Leji, Wang Huning, and Cai Qi. Ding Xuexiang delivered a speech at the opening ceremony on behalf of the CPC Central Committee and the State Council.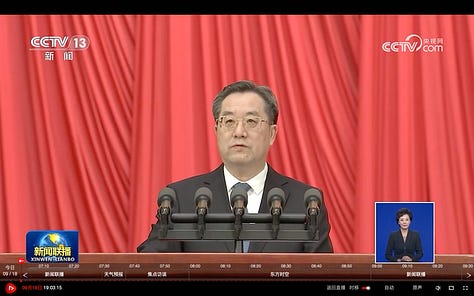 Most of the attention was directed to the stage where the political celebrities sat, and not the anonymous people with disabilities, but a row of wheelchair-bound participants can be seen in this wide photo.
As for the big banner, it has a predictably tone-deaf politicized ring, giving Xi credit for so much more than he deserves: "Guided by Xi Jinping Thought on Socialism with Chinese Characteristics for a New Era, comprehensively implement the spirit of the 20th Party Congress, unite and lead the vast number of disabled people to create a happier and better life in the process of Chinese-style modernization!"
Another surprise in the news is story number two, skipping right past Xi, who makes no further appearances. Instead, this is a moment in the sun for Xi's loyal aide and enforcer Cai Qi. His balding head and erect posture are familiar because he often helps decorate the set in Xi's presence, standing behind his master like a TV show sidekick with all the charisma of a wooden Indian or static totem pole.
But today the man forever in the background got to step in the spotlight and shine!
Cai Qi is promoting science education, and the need to inject more Xi Jinping thought into science, which sounds like a recipe for a great leap backward, but it's interesting to see him playing "leader" as he points at things, asks questions and offers advice.
In this gripping segment, leader for the day Cai Qi can be seen pointing at a plate of peaches which the CCTV cameraman graciously zooms in on to provide a close-up.
I like the way Cai Qi is referred to as a 'senior official' in this report:
A senior official of the Communist Party of China has called for continuous efforts on science popularization to improve the scientific literacy of the public and to make new contributions to achieving high-quality self-reliance and strength in science and technology while advancing Chinese modernization.
Science with Chinese characteristics on the march…
There's a huge spread on the rich harvest and bumper crop yield which suggests two things, neither of them anything to brag about. China is expecting shortages in grain supply (in part due to Russian disruption of normal export channels from Ukraine) and Xi is promulgating a Great Leap Forward style campaign to whip up enthusiasm for basic grain production at the expense of other crops, people's livelihood and the environment. Note the classic propagandistic use of big red characters to instill pride in production.
Some great tractor shots and heart-warming scenes of an incredible harvest.
Another anxiety disguised as pride is the Belt and Road Initiative which is not panning out as planned. CCTV is obsessed with shots of container ports, many of which are not busy or not nearly as busy as they used to be. Exports are down. So the pictures show the opposite. Things are on the up and up.
With sea trade down, it's only natural that China should look inland to Russia and Central Asia, in the thick of the Belt and Road, to promote trade.
There's a whiff of desperation in CCTV's flouting of the Belt and Road as of late, especially when they have to go against their own anti-graffiti guidelines and show a colorfully painted and thoroughly tagged train on its way to China.
In political news, or history news more accurately, China remembers the 9.18 Mukden Incident, a 1931 false-flag railway explosion in Manchuria which was used as a casus belli by Imperial Japan and has come to mark the beginning of Japan's full-scale hostilities against China.
It should be a time for reflection but unfortunately it gets channeled into lockstep support for the communist party and the PLA. It is also a useful way of distracting public opinion away from current troubles and mysterious goings-on by directing attention at an event that took place 92 years ago and paints Japan as the forever enemy in conjunction with more recent anti-Japan campaigns, such as the scientifically dodgy, drum-banging hype about Fukushima. There's a concomitant silence about China's comparable nuclear plants which pose similar potential threats and to a greater or lesser degree also leak tritium and other forms of radiation, even during normal operation.
The "peace" visuals of school children and white-shirted maidens learning to recite the harsh lessons of history would not be complete without a militant, military coda, citing the fervent patriotic spirit and military sacrifices of the PLA under the CCP that made today's peace and prosperity possible.
Mao once quipped that their would be no communist revolution without Japanese militarism inadvertently paving the way, and the fires of nationalism today are still being stoked by reference to Japan even though Tokyo has been bound by a peace constitution since 1945, before the PRC was even founded.
Naval forces demonstrating their military vigilance and determination for victory.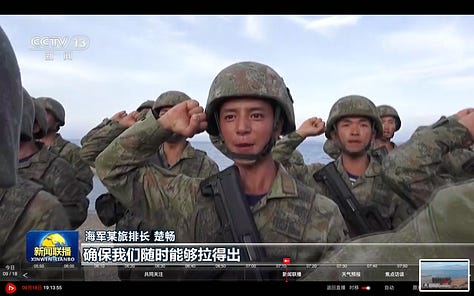 "Adhere to hard work and strictness, prepare for actual combat"
9.18 one of those "never forget" dates in Chinese history, and justifiably so, but what about all those other more recent "never remember" dates such as 6.4, when the deadly attack against the Chinese people was conducted by the PLA under the direction of the Chinese communist party itself? How did the PLA's willingness to fight and take orders from the peevish commissars contribute to that debacle?
"Be History-minded! Cherish Peace! Commemorate Martyrs! Build a better Future""